The majority of the year, Silverstone is a peaceful community lying in South Northamptonshire; however, for one weekend, hundreds of thousands of visitors descend upon the village for the British Grand Prix.
On Friday afternoon the team at Partner Electronics got involved in the excitement as they headed to the circuit to watch Lewis Hamilton and co. put on an exhibition of the spectacular; with the cars reaching dizzying speeds of 330kmh during the practice sessions.
The group took a perch at Woodcote corner which offers fantastic views of the Luffield hairpin, through to the acceleration zone along the national straight. From this position, we were able to witness the full capabilities of an F1 car as they meandered through the corners before hitting top speeds along the straight. To add to the experience we watched Max Verstappen's Red Bull spin out right in front of us as he lost control accelerating out off Luffield. Luckily all was well, with the session continuing and we were able to observe the two main title contenders, Hamilton and Sebastian Vettel, battle it out to set the fastest lap of the practice. The Ferrari driver managed to pip Lewis to this accolade setting a time of 1:27:552 in the afternoon session.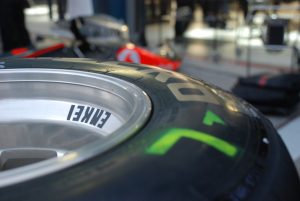 The British Grand Prix at the famous Silverstone circuit happened to coincide with the inaugural week of the summer internships at Partner. The group trip offered a fantastic opportunity for team bonding at the home of motor racing. Shaun, an engineering intern and lifelong F1 fan said "I've had an awesome afternoon in this gorgeous weather. It really has been an ideal ending to an exciting first week at Partner Electronics" This sentiment was reiterated by fellow engineering intern Jack; "Not only has this been a marvellous experience, but it's also given me the chance to get to know the team. I'm looking forward to coming in on Monday morning and working with the boys".
On the actual day of the race Hamilton put in a great recovery drive to finish on the podium; after a controversial collision with Kimi Raikkonen during the opening lap sent him towards the back of the pack. Raikkonen's teammate Vettel took home the win, which sees him extend his lead over Hamilton in the standings. Overall the team had a fantastic day out observing the feat of engineering which is Formula 1.