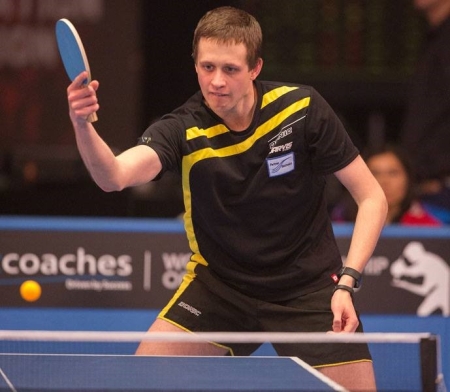 For the last few months Ian has been training 4-5 times a week to try and qualify for the world championships of ping pong.
After disappointing performances in both the UK and Scottish qualifiers, Ian's final chance to qualify was to take one of the 6 coveted spots available at the last chance saloon, an event held 2 days before the world championships containing a world class field. Ian produced great wins over Peter Palos (HUN) 2-0 and Ashley Stokes (ENG) 2-1 to reach the Q/F before losing to Le Jin (CHN) 1-2, fortunately Ian then managed to rally to beat Yohan Lecomte (FRA) 2-1 to finish joint 5th and claim his spot at the world championships.
At the world championships Ian started poorly in the group stage losing his opening match to Sherwin Remata (PHI) 0-2, a player he was expecting he beat. He however once again managed to bounce back beating (multiple ladies world champion) Egle Adomelyte (LTU) 2-0 and Omry Ben Ari (ISR) 2-1 to reach the L32 stage. Omry knocked Ian out of last years world championships so that win was particularly special to Ian. Ian went on to lose his L32 match to Tomas Sadilek (CZE) 2-0 but was still really happy with his performances through out the week.
Ian is hugely thankful of the sponsorship and support provided to him by Partner Electronics and plans to continue training hard to try and go one better next year and reach the L16 stage.